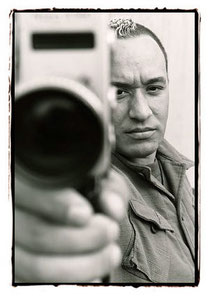 Brooklyn born to a Puerto Rican mother and Jamaican father and raised in the boroughs of NYC, Vagabond Beaumont's use of images began with using NYC's Mass Transit Authority as a canvas while attending Fiorello H. LaGuardia High School of Music & the Arts. After graduating he went on to attend The School of Visual Arts but dropped out after his first year. He began his career in film early on, working on independent black films such as Spikes Lees "Do The Right Thing", where he quickly learned all aspects of filmmaking and forged his own artistic and ideological aesthetic.

The first film that Vagabond produced was the documentary "RICANSTRUCTING VIEQUES", that told the story of the US military's occupational abuse of Vieques, Puerto Rico as a training site, through the use of interviews and live musical performance footage of Nuyorican punk rock band Ricanstruction. It opened to an emotional sold out screening at the first annual NY International Latino Film Festival and opened the Lost Film Festival 4.0 in Philadelphia. The film has gone on to screen across Europe, Australia, Cuba, Puerto Rico, and throughout the US.

Vagabond continued working with Ricanstruction and help found what would become the Ricanstruction Netwerk, a politically radical artist collective in the vein of the Situationist International. Vagabond would go on to create murals, posters, pamphlets, and videos and organize political marches, rallies, vigils, art shows, screenings and protests with the Ricanstruction Netwerk.

"MACHETERO" is his first feature film. The film stars Isaach de Bankolé (Ghost Dog, Manderlay, The Limits Of Control) who plays a French journalist who comes to New York to interview a Puerto Rican "terrorist" in prison about his decision to use violence as a means to free his people. Screened in neighborhood/barrio community centers and squats while still in mid-production, the controversial film engendered political discussion and debate within (and outside of) the Puerto Rican Diaspora and has been called one of the most important and insightful underground political films ever made. It has since gone one to screen at festivals all over the world and garnered awards in South Africa, Wales, England, Thailand, Ireland and New York.