"Jazz joy - Bad boy - the party's over -
unless you wanna scream -
once more in cool time - blues for Mister Jimmy"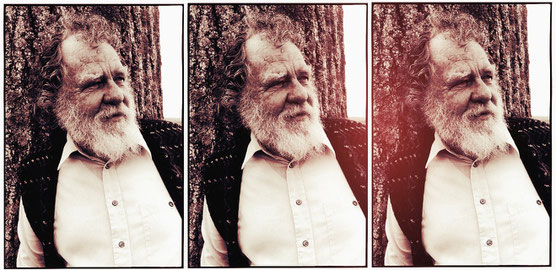 "Écrivain, poète et éditeur, Charles Plymell est né dans le Kansas en 1935. Il a frayé à San Francisco avec la Beat Generation avant de partir faire le tour du monde. Il habite aujourd'hui Cherry Valley, où il anime les éditions du même nom."  - Editions Lenka Lente
Poèmes choisis de Te bouffe pas la tête (EAT NOT THY MIND), par Charles Plymell 
Avant-propos de Mike Watt - Traduit de l'anglais par Jean-Marie Flémal (In Memoriam)
© 2009 Charles Plymell. Tous droits réservés. 
Special thanks to PAM PLYMELL
ELLE JOUE MEMPHIS  
Cherche dans les étoiles les 
  atmosphériques démons 
              qui ont laissé des dessins sur la vitre 
leur dernière fiesta la nuit  
  où le regard intemporel de la poupée 
              découvrit notre amour         
                           dans la soumission aux 
  derniers orphelins de l'univers. 
Au revoir navire élancé tanguant dans les roseaux (*) ; 
les vents tourbillonnants des jours qui déferlent meurent comme une 
apocalypse incrémentielle retombant dans la poussière. 
Pas de prises interdites – 
rassemblements infinis 
distribuant les lots.
(*) Navire élancé : « slim boat » dans le texte original (NdT).  
SHE PLAYS MEMPHIS  
Look into the stars 
for  the 
            atmospheric demons  
                                               who traced on the window 
their night's last party  
            where  the doll's timeless gaze 
                        found our love 
                                   in bondage to 
            the last orphans of the universe.  
Goodbye slim boat nodding in the reeds; 
whirlwinds of passing days die like an 
incremental apocalypse settling in the dust. 
No holds barred — 
infinite collections 
casting lots. 
PEDRO BAY 
              À Mike Watt  
Sur l'horizon orange les éclats d'étain de la lumière artificielle 
envoient des ailerons pourpres vers les vagues silencieuses 
baignées de lune et qui reviennent sans cesse 
et les danses sur une image sans demeure pour l'éternel 
vœu de pauvreté des numéros de jackpot à rappeler 
la chance dans les vents exaspérés où des mélodies 
jouaient parmi les branches noires et tordues 
comme les transes oubliées d'une langue. 
Aujourd'hui les Lions de Mer échangent leurs vœux 
au bord de l'eau près des rivages étrangers 
où des rejets toxiques au-delà des arcs glissants 
mêlent des spores nouveau-nées à ce bourbier qu'est la vie. 
Les ailes des goélands 
sont des robes sacrées 
largement déployées 
en long et en travers. 
PEDRO BAY  
               To Mike Watt
Pewter slivers of artificial light in horizon orange 
bring purple fins to moonlit silent encore waves 
and dances in a homeless image for poverty's 
eternal wish of jackpot numbers to recall 
the chance in galled winds where played 
the tunes in twisting black branches 
like a tongue's forgotten trances. 
Now Sea Lions exchange their vows  
in water's edge near alien shores 
where toxic waste past gliding bows 
mix life's paddle in newborn spores. 
The seagulls' wings 
are holy robes 
wide berth 
in bow and beam 
UN PRESSENTIMENT DANS LE VENT 
Une glace noire recouvre l'asphalte 
et les lumières de la rue la font luire 
L'iris bleu commence à se faner 
et les lumières de la nuit contrefont ses lignes 
Le cœur est toujours le premier à savoir l'avenir 
le dernier à retenir les problèmes d'un esprit sans logis 
Nous travaillions ensemble pour le cœur ancestral 
Ma sœur Betty faisait du stop vers Pocatello 
où ceux qui empruntaient les rails laissaient leurs signes 
au-dessus de leurs camps de braises 
une fois les derniers fayots mitonnés dans les boîtes 
Un siècle plus tard un oiseau savait de toute façon 
que j'étais un pigeon et il me suivit pour avoir des graines 
Ses paupières ne s'étaient pas ouvertes et il finit comme proie 
Je l'appelai Betty au Chant brisé 
Seule la sagesse du bonheur peut suivre les 
nombres infinis et emmêlés du paradis 
qui scintillent et dansent autour des rails vers l'ouest 
Sous les étoiles reposent ses obscurs vacarmes d'argile. 
PRESENTIMENT IS IN THE WIND   
Black ice is on the asphalt 
and the street lights make it shine 
Blue Iris is beginning to fall 
and the night lights fakes its lines 
The heart is always first to know the future 
last to hold the problems of a homeless mind 
We used to work together for the ancestral heart 
My sister, Betty hitchhiked into Pocatello 
where those who rode the rails left their signs 
above their camps of embers 
the last beans cooked in the cans 
A century later a bird somehow knew 
I was a soft touch and followed me for seeds 
Its eyelids had not formed open and it fell prey 
I named it Betty Broken Song 
Only the wisdom of luck can follow the 
tangled infinite numbers of paradise 
that glisten and dance along Westbound rails 
under the stars lay its darksome dins of clay. 
FONDEMENTS 
Au Kansas, les fondamentalistes 
m'ont enseigné que Dieu créa l'homme 
à Son image et selon Sa ressemblance. 
J'espère qu'il aime Son sale trou de cul ! 
FUNDAMENTALS 
In Kansas, the Fundamentalists
taught me that God made man 
in His own image and likeness. 
I hope He likes His dirty asshole! 
LA ROUTE
Aujourd'hui, les autoroutes ne sont plus que routes secondaires 
et aucune ne suit ma propre route. 
J'en ai plus qu'assez de ta route 
alors reconduis-nous sur l'autoroute. 
Enfant du jazz 
Mauvais garçon 
la fiesta est terminée 
à moins que tu ne veuilles hurler 
une fois encore en un tempo cool 
un blues pour Mister Jimmy 
THE ROAD 
Nowadays highways are byways 
and not one going my way 
I'm through with your way 
so get back on the thruway. 
Jazz joy 
Bad boy 
the party's over 
unless you wanna scream 
once more in cool time 
blues for Mister Jimmy 
Le nom de l'hôtel
Ça a commencé par une visite à San Francisco, après tant d'années. Nous nous sommes arrêtés à un célèbre hôtel. Je peux me rappeler son nom parce que j'ai eu un rêve typique d'Alzheimer. Et c'est sous la forme d'un rêve que j'ai compris à quel point c'était horrible. 
Quoi qu'il en soit, je finis par me retrouver dans un district où ma sœur était morte à la rue. Je ne puis le décrire que comme une combinaison de Portrero Hill et de la Marina, mais cela ressemblait à mes souvenirs du Fillmore voici plus de trente ans : sombre, complètement détruit par les flammes, vide et prêt à s'effondrer.
Je me mis à marcher et à marcher, ne voyant que les ombres des vieux rails et voitures Mini. Les rues étaient noires, vraiment black, comme s'il avait plu de nombreuses nuits. Occasionnellement, un personnage flottant passait et je lui demandais où se trouvait l'hôtel, mais je ne pouvais me souvenir de son nom. Je demandais qu'on m'aidât, de grâce, et je passai en revue les noms des célèbres hôtels dont je pouvais me souvenir, mais aucun ne s'avéra être le bon.
Je grimpai une colline de toitures en bitume qu'on avait incendiées et le feu était toujours en train de couver et j'entendis une voix dans le lointain dire que c'étaient les mômes qui y avaient bouté le feu. Je trouvai un chemin au bas de la colline et j'étais épuisé quand j'aperçus des personnes se tenant en face de quelques clubs aux néons blafards. Un taxi semblait s'approcher quand une des femmes à l'extérieur du club l'appela en même temps. Je lui demandai, de grâce, de me permettre de le prendre, parce que j'étais si fatigué que je ne pouvais plus aller plus loin et qu'il me fallait rentrer à l'hôtel. Elle dit qu'elles étaient fatiguées elles aussi et qu'elles avaient besoin du taxi. 
Je poursuivis mon chemin vers un stand de nourriture et commandai un plat de quelque chose avec une tranche de quelque chose. Retourné, il s'avéra que ça ressemblait à une part de pizza sens dessus dessous. Bien que ce ne fût pas ce que j'avais commandé, je décidai de l'emporter et sortis mon porte-billets pour payer. Des photos dont j'ignorais qu'elles fussent en ma possession se mirent à tomber sur le sol en même temps que mes cartes de crédit. J'essayai de les ramasser afin de les examiner, alors que d'autres continuaient à tomber. Je vis ce qui ressemblait à un portefeuille abandonné sur le coin du comptoir. Une grosse femme passa en face de moi juste comme je parvenais à ramasser le contenu et le replacer au-dessus du portefeuille sur le comptoir, pensant que j'allais attraper toute la pile et le portefeuille abandonné. Alors, quelqu'un s'empara de la pile et s'enfuit. Je demandai à un noir âgé tout près s'il avait vu qui l'avait emporté. Il se déplaça vers une porte de l'autre côté de la rue et dit qu'il pensait que la personne était entrée là. J'allai jusqu'à la porte pour regarder à l'intérieur. C'était un autre club et je demandai au portier noir si quelqu'un venait d'entrer. Il me demanda de le décrire, ce que je fis. Alors, il me dit que personne de cette description n'était entré et qu'il était inutile de supposer que la personne que je décrivais était noire. Je répondis que non, bien sûr, et il me referma la porte au nez. 
Une des femmes ne prit pas le taxi, de sorte que je me mis à marcher avec elle en espérant qu'elle irait dans ma direction, parce que je ne pouvais pas continuer sans aide. Je discutai avec elle pour qu'elle me permît de marcher en sa compagnie. Elle me demanda où j'allais et je lui dis que je ne pouvais me rappeler le nom de l'hôtel. Alors, je pensai à l'adresse de Glenn, au 1403, Gough Street, mais je me rendis compte qu'il n'y vivait plus depuis des années. Nous marchâmes vers l'endroit. Je l'étreignis et lui dis que j'avais besoin d'aide. Son corps devint comme un sac vide. Je l'étreignis davantage encore et lui demandai de l'accompagner chez elle et je l'embrassai. Sa bouche était vide.
NAME OF HOTEL 
It began as a visit to San Francisco after many years. We checked into a famous hotel. I can remember its name because I was having a dream that typified Alzheimer's. I realized in a dream fashion how horrible it is. 
Somehow I ended up in a district where my sister died on the street. I can only describe as a combination of Portrero Hill and the Marina only it resembled how I remembered the Filmore over thirty years ago: Dark, burned out, vacant, and crumbling. 
I began walking and walking seeing only shadows of old Mini rails and cars. The streets were black noir as if it had been raining many nights. Occasionally a fleeting figure would pass and I would ask it where the hotel was but I couldn't remember its name. I would ask to please help and I went through the names of famous hotels I could remember, but none of them sounded right. 
I climbed a hill of burned-out tar rooftops still smoldering and heard a voice in the distance comment that it was the kids who set them afire. I found a path down the mound and was exhausted when I saw some figures standing in front of some dim neon clubs. A taxi seemed to be approaching when one of the women outside the club hailed it at the same time. I asked her to please let me take it because I was so tired I could go no farther and I had to get back to the hotel. She said they were tired too and needed the taxi. 
I walked farther to a food stand and ordered a dish of something with a side of something. It came out turned over resembling a slice of pizza upside down. Though it wasn't what I ordered, I decided to take it anyway and got out my billfold to pay. Photos that I didn't know I had began falling on the ground along with my credit cards. I tried to pick them up to look at them as more fell out. I saw what looked like a wallet lying at the corner of the counter. A heavy woman moved in front of me just as I was able  to recover my pile of contents to place on top of the billfold on the counter, thinking I would cop the whole pile and the left wallet. Then someone copped the whole pile and ran. I asked an old black man standing nearby if he saw who took it. He motioned to a doorway across the street and said he thought the person went in there. I went to the door to look in. It was another club, and I asked the black man at the door if someone just came in. He asked me to describe him, which I did. Then he said no one of that description had come in and that there was no need to assume the person I was describing was black. I said of course not and he shut the door in my face. 
One of the women didn't take the cab, so I started walking with her hoping she was going in my direction because I couldn't keep going without help. I pleaded with her to let me walk with her. She asked where I was going and I told her I couldn't remember the name of the hotel. Then I thought of Glenn's address at 1403 Gough Street but realized he hadn't lived there in years. We walked toward her place. I hugged her and told he I needed help. Her body became like an empty bag. I hugged her more and asked to go home with her and kissed her. Her mouth was hollow.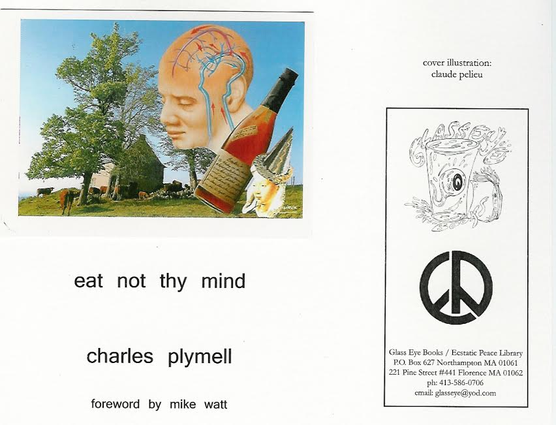 Avant-propos de MIKE WATT
Poète, Charley Plymell rêve avec son cœur, sent avec ses mains, puis travaille avec les deux. Qu'il s'agisse de secouer les mots pour essayer de donner un sens aux idées ou qu'il s'agisse de les élaborer juste comme ça, selon la situation. Quand il utilise ce qui, pour d'aucuns, passerait pour des platitudes sur lesquelles s'appuyer comme sur des béquilles, il ressuscite en fait des expressions en les tirant de l'inertie létale à laquelle les avait vouées une pensée trop nonchalante, il s'envoie une solide bolée d'air avant d'y pénétrer et de les forcer à acquérir une nouvelle vitalité. Sa perspective est celle de l'apprenant obnubilé par «j'y suis allé », mais il est une réflexion qui mérite le détour et c'est celle-ci : « Peut-être n'est-ce pas les années, mais les kilomètres » et vous pourriez envisager d'essayer une bagnole déglinguée, pas vrai ? De faire jaillir et mousser de la joie, de vous plonger dans chacun des mondes que sont les poèmes élaborés par Charley, pour sentir une possibilité… de ces jours-ci, ce jour-ci, même, cet homme, précisément… Me voilà – je vous parle, tout en écrivant sur lui, afin de partager avec lui sa célébration du mot – depuis la poitrine qui pompe et la flamme derrière l'œil et, en face de l'œil, que
doit-il arriver ? Quel esprit a dansé et virevolté et parfois s'est élancé dans
une spirale suffisamment longue pour prendre le temps de penser à cette chose, de réfléchir – mais sans la tête – à ce qui colle ou ne colle pas dans certain détail, vous voyez ? Imaginez donc, pour un éclat de rire venu des tripes et qui fait mouche et vous laisse émerveillé, quel don grandiose que de laisser un compagnon de voyage dans l'émerveillement… Soyez bénis.
À la basse, Watt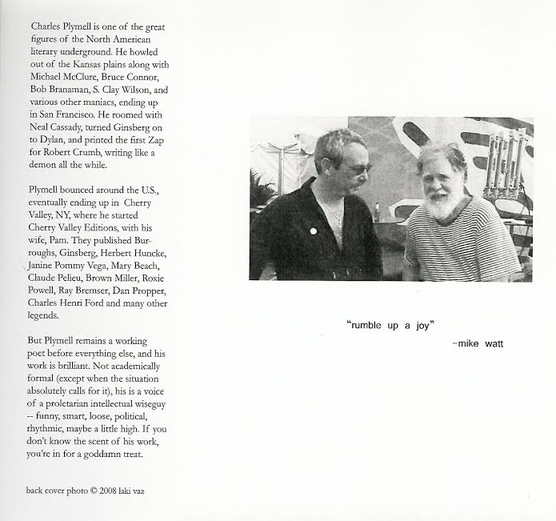 0 Comments