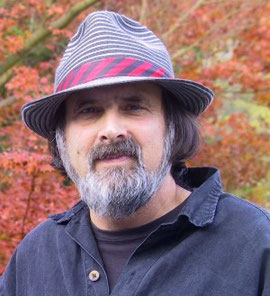 Born in Miami Beach, Florida in 1951, Michael Rothenberg ( the organizer of 100 THOUSAND POETS FOR CHANGE ) has been living in the San Francisco Bay Area for the past 30 years. He is co-founder of Shelldance Orchid Gardens in Pacifica which is dedicated to the cultivation of orchids and bromeliads. He is a poet, painter, songwriter, and editor of Big Bridge Press and Big Bridge, a webzine of poetry and everything else. He is also co-editor and co-founder of JACK Magazine, a literary publication that relates to, but expands beyond, the beat generation.
His most recent collection of poems is My Youth As A Train published by Foothills Publishing in September 2010.

His songs have appeared in Hollywood Pictures' Shadowhunter and Black Day, Blue Night, and most recently, TriStar Pictures' Outside Ozona. Other songs have been recorded on CDs including: The Darkest Part of The Night by Bob Malone, Difficult Woman by Renee Geyer, Global Blues Deficit by Cody Palance, The Woodys by The Woodys, and Schell Game by Johnny Lee Schell.
His poetry books and broadsides are archived at the University of Francisco, and are held in the Special Collection libraries of Brown University, Claremont Colleges, University of Kansas, the New York Public Library, UC-Berkeley, UC-Davis, and UC-Santa Cruz.
He is currently living in the redwoods.
Go to Big Bridge to see earlier collections of his poetry, editorial projects and many more
100 THOUSAND POETS FOR CHANGE official website