100 THOUSAND POETS FOR CHANGE
100 TPC 2012 IN FREETOWN CHRISTIANIA, COPENHAGEN!
Who are the UZUPIS? They tore down Lenin's statue – and raised one to Frank Zappa!! We met them in Christiania, Copenhagen, & read at their event/party along with the ambassor of Christiania in Denmark, also a tribute to 100 Thousand Poets for Change…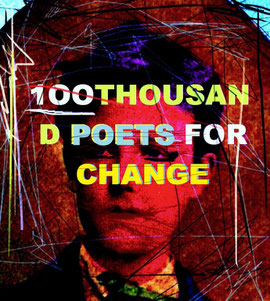 Sept. 29th is 100 Thousand Poets for Change Day for 2012!
And, since many 2011 participants have expressed the desire to organize multiple events for 2012 and to have more options on when to hold events, we have decided to make the entire month of September-100 Thousand Poets for Change Month!
TO REGISTER AN EVENT FOR 100 TPC- SEPTEMBER 2012 write to us at:
walterblue@bigbridge.org
 100 THOUSAND POETS FOR CHANGE official page 
---
What happened on
SEPTEMBER 24th 2011
?
Poets around the
USA
, and across the planet, gathered in a demonstration/celebration of poetry to promote serious social, environmental, and political change.
700 Events – 550 Cities – 95 Countries
Paris breaking NEWS

September 24, 2011: Tsunami poet will be executed today at the

Louvre

Museum

as part of a "Tribute" to capital punishment - he will be reading a Last Poem followed by a series of last wishes before being beheaded!
for complete report & pics click here
************************************************
Tsunami bOOKS is celebrating 100 THOUSAND POETS FOR CHANGE in Paris!

1 happening outside of the Louvre Museum ( 4:00pm )
next, a spontaneous shamanoise reading/gathering on the Pont des Arts ( Seine, 5:00pm ) with Tsunami poets, friends, lovers, strangers, beggars... -- Bring books, zines, guitars, bongos, accordions, harmonicas, flutes, saxophones etc -- beers, wine, brownies, tartes, pies, etc!