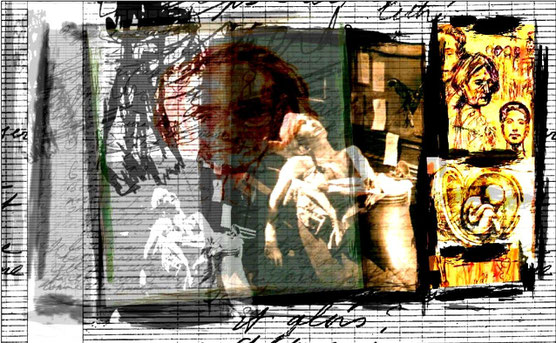 translation: Henrik Aeshna
"Every morning the same character comes back to fulfil his spitefully criminal and sinister killing function, which is keeping me under his spell, so as to make of me this eternal bewitched etc etc."
(last notebook, last words... Artaud was found dead in a psychiatric clinic room in Ivry-sur-Seine, outside Paris, on the morning of March 4 1948, of a supposedly accidental overdose of chloral hydrate. They found him prostrated like a fetus at the foot of his bed, amongst his writings & excrements. He was 52.)
*
"Le même personnage revient chaque matin accomplir sa révoltante criminelle et assassine sinistre fonction qui est de maintenir l'envoûtement sur moi, de continuer à faire de moi cet envoûté éternel etc etc."
(extrait du dernier de ses 406 cahiers, le Jeudi 4 mars 1948, victime d'une surdose accidentelle d'hydrate de chloral, produit dont il connaissait mal l'usage. On l'a retrouvé recroquevillé au pied de son lit, au millieu de ses écrits & de ses excréments)