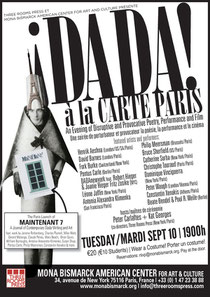 Three Rooms Press and Mona Bismarck American Center for Art and Culture present
¡DADA! à la CARTE PARIS!
An Evening of Disruptive and Provocative Poetry, Performance and Film
Mona Bismarck American Center for Art and Culture
34, Avenue de New York, Paris, France
Tuesday, 10 September, from 1900h to 2100h
° SCHIZOPoP KALEIDOSCOPIUM / MEDUSA TV - Exceptionally for this unprecedented event celebrating the French-American friendship, poltergeist poet-performer Henrik Aeshna will have a ménage à trois with his two lovers (one is his sister, the other is a 15-year-old stripper) over a surreal background maelstrom-mixtape & video featuring the Star-Spangled Banner & La Marseillaise, artillery sounds, military marches, bombs, riots, jungle sounds, birds, frogs, wolves, sirens, newborn babies, buffalos, hyenas, elephants, copulating cats, cicadas, humpback whales, roses, storms, thunderbolts, tribal drums & shamanic chants, cornucopias, heartbeats, waterfalls, machines, clocks, cuckoos, glossolalias, tourette's, kindergarten patios, Pop Goes the Weasel, railroads soundboards, liturgical hymns, exorcisms, factories, football matches, VMAs, Grammies, Oscars, Nobel Prizes, commercials, films, cartoons, flotsam & jetsam of urban noises & conversations, laughters tears moanings & groanings of all kinds, and many more.
Highlight: internationally famous actor GERARD DEPARDIEU will be present grunting & whirling across the stage like Julie Andrews in The Sound of Music, as goldfishes DAMIEN HIRST, TRACEY EMIN, AMÉLIE NOTHOMB & MICHEL HOUELLEBECQ will be displayed in a formaldehyde tank.
Following the threesome epiphany & petite mort, they will commit Shinjū à trois (triple love suicide) by ingesting 10 litres of bleach (eau de javel) & guzzling a pig slop composed of newspapers chips fries foie gras sim cards broken glasses nails pills Oscars etc. - that is, if they don't die of love & caress overdose during the sex act!
This unforgettable WARGASMIC event will surely make the Statue of Liberty & Baby Jesus dissolve into tears.
MEDUSA TV - a tribute to the emptiness & boredom of our generation turned to stone by countless Medusa brands. - God Save the Clean!