VERNISSAGE : December 8, 2012, 4p.m. to 10p.m.
Closing show / Finissage : December 20, 2012, 6p.m. to 10p.m.
SCHIZOPoP MANIFESTO says: GIVE ART/LIFE AN ORGASM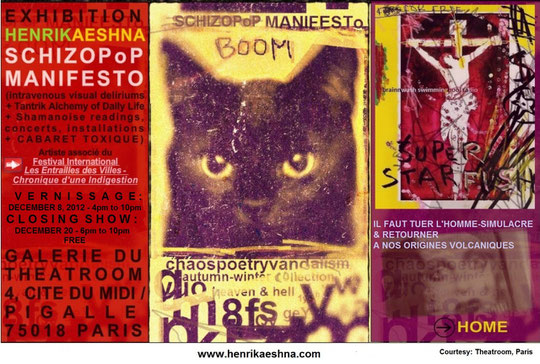 Click on the image to see the animated flyer-installation
Theatroom proudly presents:
EXHIBITION / EXPOSITION
HENRIK AESHNA & SCHIZOPoP MANIFESTO
(intravenous visual deliriums + Tantrik Alchemy of Daily Life + Shamanoise readings, concerts, installations
+ CABARET TOXIQUE)
VERNISSAGE :
December 8, 2012
4p.m. to 10p.m.
Closing show / Finissage :
December 20, 2012
6p.m. to 10p.m.
GALERIE DU THEATROOM
4, CITE' DU MIDI /
PIGALLE
75018 PARIS
M° Pigalle / Blanche / Abbesses
Check out the animated flyer-installation HERE
Official site Festival International THEATROOM
Les Entrailles des Villes -
Chronique d'une Indigestion
(check out full schedule)  
AESHNA: A VISIONARY VANDAL AT LARGE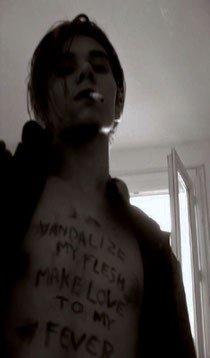 Alternative press in Europe has called him the "anti-prophet of the SchizoPoP Generation (due to his SchizoPoP Manifesto), an intoxicating mix of raw energy and unyielding passion, visionary vandal and poltergeist poet of inspirational carpe diem". Go check out his website and trip on his list of Obsessions (from exotic clothes and cats to clandestine epiphanies, psychogeographical exploration of intensities, tramping and women writers), and you'll know what we mean.
His irony-filled bullet-remarks and assaults (like for ex. sending his poems disguised as CVs to employers, selling Van Gogh's ear in meat packages, besides other profanities and délits) have served not only to highlight his position as the official hellraiser and Partypooper of Parisian jetset poets/artists circles but also to wake up all kinds of sleeping volcanoes and spark a real pandemonium wherever he passes by. Henrik's cannibal pyromaniac poetry is a real shamanoise concert of "cataclysms & intravenous visual deliriums, visions, spontaneous and visceral tantrik lyricism, unstructured syntax, incest & Erotic Apocalypse", or just "the poetry of a young drop-out hobohemian who threw everything up somewhere in the world, for slip or for wisdom, a loser who realized he had nothing to lose but BOREDOM".
- Lazy Gramophone (London), Association Tapez Diese Marseille & Tsunami bOOKS