click HERE to read full article on 100tpc Official Page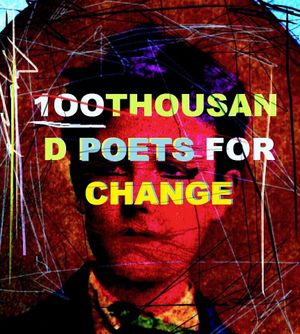 SHAMANOISE JAZZ POETRY
What happened on
SEPTEMBER 24th 2011
?
Poets around the
USA
, and across the planet, gathered in a demonstration/celebration of poetry to promote serious social, environmental, and political change.
700 Events – 550 Cities – 95 Countries
Paris breaking NEWS

September 24, 2011: Tsunami poet will be executed today at the

Louvre

Museum

as part of a "Tribute" to capital punishment - he will be reading a Last Poem followed by a series of last wishes before being beheaded!
for complete report & pics click here
************************************************
Tsunami bOOKS is celebrating 100 THOUSAND POETS FOR CHANGE in Paris!

1 happening outside of the Louvre Museum ( 4:00pm )
next, a spontaneous shamanoise reading/gathering on the Pont des Arts ( Seine, 5:00pm ) with Tsunami poets, friends, lovers, strangers, beggars... -- Bring books, zines, guitars, bongos, accordions, harmonicas, flutes, saxophones etc -- beers, wine, brownies, tartes, pies, etc!